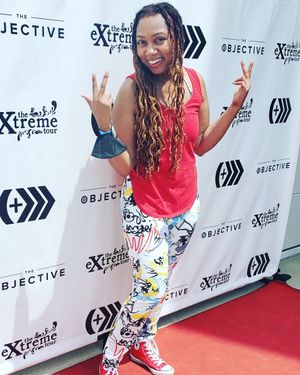 Cara-Mel, whose real name is Dana Holmes is a female Hip Hop/Inspirational Artist; native of Chesapeake, Virginia. Her musical style can be best described as a blend of Hip Hop/R&B, Neo-Soul, Down South, and Dance meets Trap with a Social Justice aspect. She began her musical journey at the tender age of seven listening to Oldies But Goodies; where her interest in R&B artists such as Stevie Wonder and Al Green led to writing full R&B/Soul ballads and playful up-tempo tunes by the age of eleven. Deeply into jazz artists such as Kenny G and Najee, she started playing the saxophone in the sixth grade and was invited during her first year of playing to the All-City Band; where she was ranked third chair overall in her hometown of Chesapeake, Virginia. By the age of fourteen, Cara-Mel became intrigued with Miami Bass, Down South and Hip Hop music with influences such as Luke, Salt-N-Pepa, Tupac, Lauryn Hill, Slick Rick, A Tribe Called Quest, and 69 Boyz; this is where her style of rhythmical writing took off into her own creation during the early part of this artist's indie career.
         However, after years of struggling to get on with a major label she made the mistake of giving up pursuit of her musical dreams and stopped creating and producing music. Once hanging up her microphone, this beautiful talent spent several years working as a special education teacher and in fitness. In 2008, she started a health and wellness business, which became very successful throughout the Washington D.C. Metropolitan area for five years. However, during the mid-2013 economic slowdown and the federal government's sequestration; cutbacks forced her to close the family business. The sudden loss of income led to the foreclosure of her home and subsequently bankruptcy. 
         Attempting to get back on her feet, this young artist was hit with another blow; as she was diagnosed with Ductal Carcinoma in Situ (DCIS), which is considered the earliest form of breast cancer. Once given this devastating news her reflection about life came to the forefront with some regrets. It was during this time she vowed to go back to one of her greatest past loves; which was music. This motivated Cara-Mel to record "Broke," her first hip hop song in years. The street promo song, "Broke" placed her on the map when it caught the attention of DJ SIDEREAL from Minnesota and landed a spot on the "Stamp of Approval" mixtape song bangers of the year in 2015. This song was written and recorded to reflect the frustrations of living check to check; which everyone can relate to at some point in their lives. Following her return to the music scene, she released "Back To The Grind;" a sneak peek of what was to come from the highly anticipated debut mixtape "Racial Profile," which was released in September of 2016. Since then, Mel's music has been placed on several mixtapes such as "Never Falling Off," hosted by the On By Society Movement and DMV vs EVERYBODY 3, a popular DMV Music Plug local artist's series.
        As 2018 ended on a great note; she was looking forward to collaborations with various artists as her career began expanding. However, excited about new opportunities ahead and while recording new works; this queen was hit with unexpected news. After a routine exam, Mel discovered she would have to lace up those combat boots once again with the diagnosis of breast cancer (DCIS) in April of 2019; which led to a mastectomy that same year in June of 2019. But, with discipline and perseverance this two time pink survivor worked hard to get back to her music career and living cancer free in a little over nine months. 
         Without skipping a beat, Mel has landed several magazine spreads such as Mr. Dreamz, Nashville Voyager, and Canvas Rebel. This award winner also received recognition in the category for "Best Hip Hop Album Of The Year" at the X-Poze-Ing Music Awards in 2018 for "Racial Profile." Once recovered from surgery, this young lady came back with a vengeance when she dropped her catchy tune "Maybelline;" which made the AVA Live Radio Top 20 "Best of Summer Indie Music" charts of 2020. Elevating forward, this queen has been nominated for musical awards over the span of 2021-2023; which includes the "Regional Artist Choice 2021 Awards; hosted by the Gospel Industry Network for her track "Reflections," "Hip Hop Artist of The Year (Gospel Choice Music Awards 2022)," and the Kingdom Image Awards 2022 to name a few. In May of 2021, this upcoming sensation expanded her entertainment resume by starring/hosting in her very own television show called "LYV " on the "All Nations TV Network." Since airing, the show has received television nominations by the Prayze Factor Awards in the category of TV Show/Host of The Year in 2022/2023 and The Gospel Choice Awards in 2023 for "Virtual Talk Show of The Year." 
        And now with high expectations, Mel has now teamed up with some of Richmond, VA's finest musicians to formulate a live musical hip hop band; which she named "Cara-Mel and The Cook Up Crew." The Cook Up members consist of Ray The Baker (on the keys), Curt Boogy (bass), Neil H. (lead guitarist), and Lenny J. (drummer). With this in mind, Mel and the Cook Up Crew's highly anticipated debut on the Bobby Jones Presents Show that will air on Impact TV in this 2023 season will do nothing but bring down the house. Not only does this hardworking, multi-talented lady have flow; but she is a singer-songwriter and entrepreneur on a mission to bring change through her music and also in collaborations of divine business partnerships. While this emerging artist strives to empower others across the globe; this woman has a unique style like no other that demands attention as she positions herself as a lyrical storyteller of our time.