#SpreadingTheLove Cara-Mel Picks of The Week (#24)
Special Thanks: S/O to everyone who continues to spread the love all around! Let's continue to support one another in 2017! You all are appreciated and I look forward to everyone's tweets this upcoming week.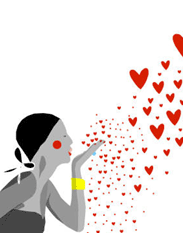 Tonight's Friday picks are all about music organizations that support musicians all across the globe and great advocates/businesses of various causes. Please support these great companies and individuals by following them on social media and/or providing "likes" and "retweets" on their posts. I appreciate any comments that are left on this blog. Have a great weekend! 
Music Organizations 
Indie Music Spin @indiemusicspin 
Business Profile: A Independent Music Magazine that features music reviews and news on hot indie music artists, videos, albums, concerts, news & events. 
Indie Music Network @IndieSoundMusic 
Business Profile: A Independent Music Platform where musicians can upload, promote and share their music for FREE to aid in building a fan base!
RAZRmusic @Razr_music 
Business Profile:  A music company that focuses more on what matters the most: The music & The fans. They separate themselves from the pack of promotional companies by focusing on the fans. Every action taken; is set towards attracting new fans; quality fans that are willing to support and artist's brand.
The Music Company @MusicCoOnline  
Business Profile: A company that provides courses, ebooks and videos of the best music industry information on "How To Succeed In The Music Industry;" the real way to success from those who live it. 
Vigilantes Radio @NoLongertheHero 
Music Profile: A independent Podcast that supports musicians by providing exposure through in-depth interviews; hosted by Dini Mussolini. 
Advocates/Causes: 
Jeri Lowrance @JeriLowrance  
Profile: This individual is an Advocate/Domestic Abuse Survivor; as well as a MS Advocate for those that suffer from this disease.
Black Girls Can @BlackGirlsCan1 
Profile: This organization is on a mission to encourage Black women and girls to love themselves and inspire greatness. 
Black News @BlackNewsOutlet 
Profile: This organization believes in providing daily news and events that are going on within the African-American communities and beyond. Their slogan: "Freedom is never given; it is won." 
Psych Consultants PC @PsychPc 
Business Profile: This organization believes in helping those that suffer from mental illness; and need assistance during the self-care process of dealing with their mental health.
Fitness Healthy Life @health_andfitne 
Business Profile: This fitness organization's mission is to spread a positive attitude about Health & Fitness around the world.